Our Care Services
Our Care at Home services include: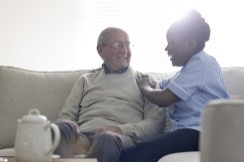 Home Care
We aim to find the ideal care solution for you, offering from as little as 30 minutes to 24 hours of support per day. We provide high quality care services for older people, physical or learning disabilities, dementia, mental healthcare, neurological conditions and vulnerable adults. You can remain in the comfort and safety of your own home while receiving the necessary care from fully trained healthcare professionals.
One of our dedicated Care Managers will meet with you and your family. They will take the time to get to know you, understanding your specific needs, which will be identified in your individualised care plan. The areas that will be discussed and documented cover your activities of daily living, mobility, nutrition, medication, hygiene and personal safety. We aim to encourage your independence and self-determination whilst respecting your choices and wishes.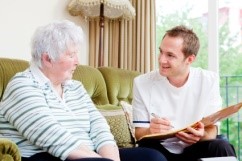 As part of the initial meeting we will provide you with a Welcome Pack that provides information about our services. Included in this are our Principles of Service, how to contact us during and outside office hours, what to expect from our services and how you can express any concerns.
You will be informed of their named carers expected for their visits. The Care Manager you met initially provides a full handover to your named carers.
All our carers have been carefully selected, having undergone a stringent recruitment process, completed the Care Certificate as a minimum with the objective that they continue to undertake their QCF qualifications. All healthcare professionals receive regular supervision, annual appraisal and annual refresher training, ensuring they remain compliant, competent and in line with the CQC and other regulatory frameworks.
Our Care Managers will maintain contact with you and your carers and be on hand should you have any concerns about your care and support.
Ongoing monitoring of our clients and staff is undertaken through reviews and supervisions. This process enables us to ensure that the care is in line with our high standards and complies with all current legislation and regulatory frameworks. We also undertake client and staff surveys to obtain objective feedback. We undertake regular internal audits and are audited by external organisations such as the CQC and contractors.
Our Principles of Service demonstrate our ethos to ensure our services are person-centred, treat each client with dignity and respect, accept the person as an individual and for them to feel empowered in regards to their care.
Ward 18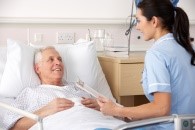 Ward 18 is a dedicated ward at Queen Elizabeth Hospital, Woolwich, London managed by Bridges Healthcare for medically fit/stable clients who have previously received acute medical care at a hospital within the London Boroughs of Bexley, Lewisham & Greenwich.
We are registered with the Care Quality Commission and follow the policies and procedures of the NHS Trusts with whom we work.
From admission through to discharge our clients continue to receive high quality care from experienced nurses and healthcare assistants to ensure they complete their pathway of care and are then discharged home or to the most appropriate care setting.
The move to Ward 18 gives our clients access to a calmer environment whilst being continuously supported and receive a well planned discharge process.
We aim to ensure our clients feel safe and cared for and are treated with dignity and respect at all times. Our staff are highly trained and experienced and will make every effort to ensure our clients are involved in their care and treatment planning.
The ward is open 24 hours a day, 7 days a week.
Duncan House- Short time stay
Duncan House is an intermediate unit/planned discharged unit operated by Bridges, equipped with nurses, HCA's, therapy team and a GP. It offers a short term stay to medically fit patients while they await placement or their next move. During the stay we provide all their meals, snacks and a fun environment that keeps them going. If you are interested in this please call us today to find out more.
Broker/Consultancy
We understand that finding a care home for your loved ones can be an overwhelming process. Our Broker service can take the pressure off your shoulders. We have a dedicated team of nurses that assess the clients need with you and aim to offer you the best solution to suit the needs of your loved ones.
Emergency Respite
We have a dedicated team of Care managers, nurses and HCAs that are able to respond to emergency calls at any time. Just give us a call and someone would be with you as soon as possible.
Some of our specialist areas:
Physical Disabilities
We arrange care for those who need a bit of assistance to be able to undertake daily tasks or specific activities, such as trips or excursions. By having a staff fully trained in moving and handling, we can ensure you remain in a safe environment.
Learning Disabilities
We can offer you specialist care if you have specific learning disabilities. We can be there to assist with activities where you may otherwise be hindered as a result of such disabilities.
Dementia
We provide the necessary support to help you to continue living the life you are used to and preserve your dignity. By finding out about your life prior to the dementia, including details of your family, friends, interests and relationships, we aim to protect the memories of you.
Services for Companies:
Consultancy Arrangements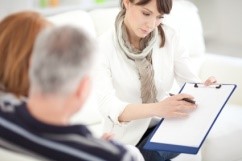 We have significant experience of undertaking external continuing care assessments and reviews on behalf of healthcare organisations. We welcome the opportunity to assist you with your continuing care assessment projects.
Training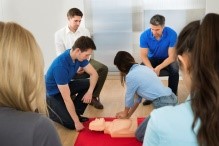 While our in house training programme is in place to keep our own staff up to date with training, we also offer our experience and expertise to other organisations who wish to train their staff externally.