Our Care Services
Our Care at Home services include:
Home Care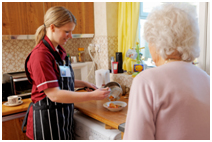 We aim to find the ideal care solution for you, offering from as little as 30 minutes to 24 hours of support per day. You can remain in the comfort and safety of your own home while receiving the necessary care from fully trained healthcare professionals.
We provide high quality care services for:
Older people
Physical or learning disabilities
Dementia / Alzheimer's
Mental healthcare
Neurological conditions
Vulnerable adults
Palliative care
Respite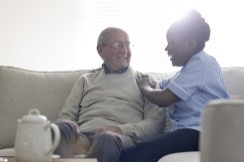 One of our dedicated care managers will meet with you and your family and take the time to get to know you and understand your specific needs. As part of this initial meeting we will provide you with a Welcome Pack which outlines our principles of service.
Our home care services include:
Encourage your independence and self-determination whilst respecting your choices and wishes
Personal care which includes washing, toileting and continence management, bathing and showering
Assisting with medication administration and prescription collection
Liaise with other professionals such as GPs, district nurses, and physiotherapists
Preparing and assisting with meals and drinks
Assisting with morning and bedtime routines
General household duties such as: cleaning, washing up, vacuuming, and laundry
Grocery shopping
Helping with paying bills or setting up payments
You will be informed of the named carers expected for your visits. All our care workers have the appropriate qualifications and ongoing training. They are monitored regularly through appraisals and supervisions.
Other available services:
Broker / Consultancy
Emergency respite
Training
Wellbeing checks
Continuing Healthcare Assessments by our qualified nurses
Food, drink, environmental intolerance testing, and advice
Companionship
Please contact us for further information and pricing
High quality, professional nursing care in hospital wards and community settings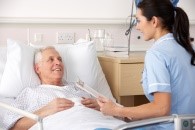 Bridges Healthcare offers a unique service that provides highly skilled nurses, healthcare assistants, co-ordinators, care managers, and therapists that can be placed in a community setting. This additional service which started in 2012 supports the NHS, Local Authorities, and CCGs in avoiding delays in discharge, as individuals can be offered a step-down facility where they continue their rehabilitation.
Readmore
Broker / Consultancy
We understand that finding a care home for your loved ones can be an overwhelming process. Our Broker service can take the pressure off your shoulders. We have a dedicated team of nurses that assess the client's need with you and aim to offer you the best solution to suit the needs of your loved ones.
Emergency Respite
We have a dedicated team of care managers, nurses and healthcare assistants that are able to respond to emergency calls at any time.
Training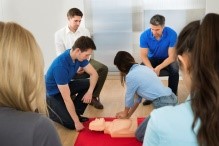 While our in house training programme is in place to keep our own staff up to date with training, we also offer our experience and expertise to other organisations who wish to train their staff externally.
Wellbeing checks
Our Wellbeing checks service is carried out by our qualified nurses and includes monitoring your vital signs such as:
Blood pressure
Pulse
Temperature
Oxygen levels
Physical and mental wellbeing
Or anything else that you may be concerned about
These checks can help put you and your family's mind at rest, or alert us to any signs of decline. We will feedback to your GP immediately with any concerns, as early prevention could avoid a hospital admission.
NHS Continuing Healthcare Assessments by our qualified nurses
This assessment is a screening tool which helps practitioners identify individuals who may need a referral for a full assessment for NHS Continuing Healthcare. Our qualified nurses are trained in and familiar with the National Framework for Continuing Healthcare and NHS-funded Care.
There are two potential outcomes following completion of this assessment
A negative outcome, meaning the individual does not require a full assessment of eligibility and they are not eligible for NHS Continuing Healthcare
Or A positive outcome meaning an individual now requires a full assessment of eligibility for NHS Continuing Healthcare. It does not necessarily mean the individual is eligible for NHS Continuing Healthcare.
Food, drink, and environmental intolerance testing, and advice
We have a qualified nurse who is a practitioner in the testing of allergies and intolerances to food, drink, or any product that you use in your home. Our practitioner can also test for vitamin and mineral deficiencies. Through testing, you will be able to reach the goal of improving your health and symptoms such as: headaches, migraines, skin problems, IBS etc.; this can be truly life changing.
Please contact us if you are interested in this service.
Companionship
We offer a companionship service which is facilitated by our healthcare assistants. This is usually held over a four hour shift and can include activities such as: a shopping trip, visit to nearby parks, cinemas, hairdressers/barbers, lunch, or any other area of interest.