About Us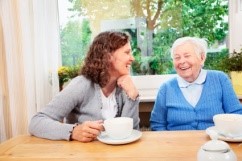 Bridges Healthcare is a professional company with over 20 years' independent healthcare experience. We offer a range of high quality care services to people who wish to remain in the comfort and familiarity of their own home, and to people in different health and care settings.
What defines Bridges Healthcare is the passion and desire of its staff to provide the best care possible. The company is constantly developing but never losing sight of its core principles, which remain at the forefront of the services it provides.
We treat every client with dignity and respect and work with them and their family to create a care and support plan that puts the individual at the centre of their care, keeping our clients and their family fully informed and supported throughout.
We provide our services 24 hours a day 365 days a year, which includes an out of hours on-call service that is managed by our care managers. Central to the quality of our services is that the organisation is well-led by a fully qualified Registered Nurse with a Community Nursing qualification, as well as a Nursing team who work in the community settings.
We have a strong client base, working together with the NHS in the community settings. We work with local authorities to provide domiciliary care services and provide care and support services to private individuals in the local community. We also provide services for hospices, care homes and other care establishments.
Working closely with external agencies such as local authorities, GPs, District Nurses, CCGs, Hospices and Community Teams (including Physiotherapists and Occupational Therapists), provides our clients with an holistic approach to their care.
Our Nurses and Healthcare Assistants are employed directly by us. Our care managers visit clients on a regular basis to re-assess needs, support our Healthcare Assistants, and monitor the quality of the services provided. Our aim is to provide our clients with continuity of care, including periods of staff sickness or holiday.
Our team is supported by our Human Resources and Administration departments who work to ensure our staff remain compliant with necessary legal and statutory requirements (i.e. Disclosure Barring Service, Occupational Health checks, references, training, etc.). We have an in-house Training department that is dedicated to ensuring all our staff undergoes a thorough induction, and completes relevant QCF qualifications, as well as receiving regular refresher training and supervisions to ensure our standards are maintained.
Principles of Service:
Our Principles of Service are not only the aims and objectives of our organisation, they form the fundamental philosophy through which we provide our services:
To care for individuals physically and emotionally, respecting their beliefs and cultural backgrounds
To promote individuality, dignity and independence
To shape services to meet the needs of every individual
To involve and encourage participation of individuals in all decisions relating to their care
To find innovative and creative solutions to problems
To build strong and trusting relationships with individuals
To ensure all staff are highly committed, professional and skilled